Chakra Stone Kit with Wand and Velvet pouch kit.  
Energy Centers Chart inside explaining the different Chakras and what each stone means. This kit features Amethyst for spiritual connections and enlightenment. Sodalite is perfect for psychic, intuition, and thought. Maybe you need help with your communication? Blue Turquenite is what you need! This stone helps not only with communication but also with expression. Use Green Aventurine straight on the heart to experience love and acceptance. If you're having trouble with healing, Yellow Aventurine is right for you! This specific stone also helps with life force, power, and vitality. Carnelian targets creativity and sexuality. Last but not least, this kit comes with Red Jasper which is perfect for Earth, grounding, and survival. 
 Chakra Stone Kit with Wand
7 stones
Velvet pouch
Crystal wand
Energy centers charts
Amethyst- The purple color to reddish-purple hues of amethyst has long been a symbol of peace, cleansing, and calming energy. The crystals represent purification and connection to spiritual and divine beings. The meaning of amethyst is attached to serenity, understanding, trust, and grace.
Sodalite brings order and calmness to the mind. It encourages rational thought, objectivity, truth, and intuition, along with the verbalization of feelings. Sodalite brings emotional balance and calms panic attacks. It enhances self-esteem, self-acceptance, and self-trust.
Blue Turquenite has all the properties of howlite, be it physical or metaphysical, and some of the additional properties are due to its blue color. Because it is Howlite, it has properties of decreasing and overly critical state of mind, selfishness, stress, pain, and rudeness increases subtlety and tact.
Green Aventurine provides strength, confidence, courage, and happiness. It renews one's optimism for life and pushes us to take action to acquire what we want in this world. This stone urges one to get out of their comfort zone and take on new opportunities.
Yellow Aventurine is a very unique gemstone with powerful attributes which can change your life in mysterious ways. This stone represents self-reflection, prosperity, calmness, balance, optimism, and creativity. Yellow Aventurine is associated with the solar plexus chakra.
Carnelian is a stone that is known to increase the clarity of thought and enhance intuition
Red jasper is a stone of many meanings and historical ties, said to hold powerful physical and spiritual protection.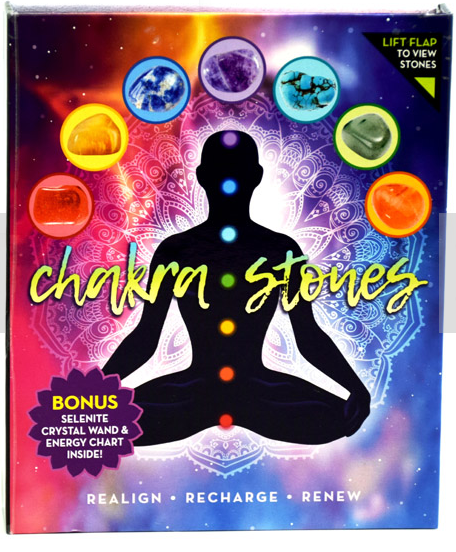 Chakra Stone Kit with Wand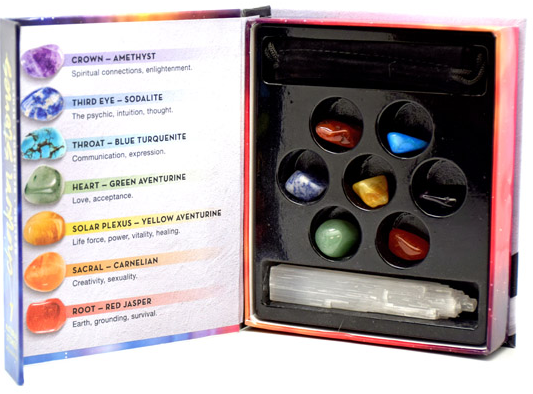 Chakra Stone Kit with Wand