Looking to create a macabre atmosphere when burning some incense? The Reaper in Boat Backflow Incense Burner will meet your needs. Made from cold cast resin, this hand-painted incense burner holds a single incense cone, not included. It depicts a grim reaper sitting in a boat that sits in a blue pool. The cloaked reaper holds up a lantern in its right hand. The realistic-looking reaper wears a black cloak with a rope belt. Next to the reaper is a wooden oar for the boat. On the reaper's back, there is a platform for the incense cone. The smoke from the incense flows onto the boat and then onto the faux water through the cracks in the boat. These cracks give the wooden boat a worn look, matching the macabre feel of its highly detailed captain. Below the boat is a blue pool surrounded by pointed rocks. This grim reaper incense holder makes for an eye-catching statue when it is not in use. You can also give the Reaper in Boat Backflow Incense Burner as a gift.
Reaper in Boat backflow incense cone burner features a reaper in a boat holding a lantern. This backflow incense burner is a great focal point in any room and is the perfect gift. Made from cold cut resin this backflow burner measures 7" tall. With the backflow cones, the smoke flows down instead of up! When you light your cone the smoke will flow down and come out from under the boat! This burner comes ready for use with one backflow incense cone for use.  
Reaper in Boat Backflow Cone Burner
Made with cold cast resin
7"tall
Can use cone incense but better with the backflow cones!
Backflow Burner Features:
Made of Cold Cast Resin
7" Tall x 6" Wide
For use with Backflow Incense Cones Only
Comes with One Incense Cone
What's in the Box:
1x - Reaper in Boat Back Flow Cone Burner
1x - Backflow Incense Cone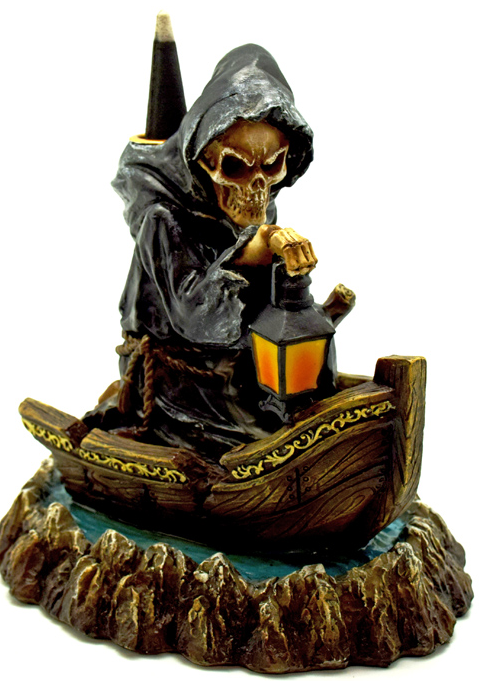 Reaper in Boat Backflow Cone Burner